Presidential Candidate Andrew Yang Set To Revolutionize Tech Industry
In the middle of a growing gap between legislators and tech companies, Democratic presidential candidate Andrew Yang has put out a new bold tech policy proposal which includes taxing digital ads and establishing a department to regulate tech industries. 

Yang's new approach sits in the middle of Sen. Elizabeth Warren's aggressive antitrust action and Pete Buttigieg's milder regulatory approach. At the forefront of his policy, Yang focuses on addressing important issues: promoting a healthy relationship with tech, fighting against disinformation, ensuring user data and privacy, and providing support to the federal government in implementing guidelines and addressing issues within the tech industry. 
Promoting Better Relationship With Tech Companies
As technology and social media play an important role in our day to day lives, Yang believes it is important to balance this co-dependency, especially among teens. As a parent of two young children, Yang is concerned about the adverse effects that technology has and is also focused on finding solutions to create a better relationship with technology. 
His proposal is to create a new government body called the "Department of the Attention Economy". The department's main goal is to provide age-appropriate guidelines for companies that design and manufacture smartphones, social media, gaming, and chat apps. It would also implement heavier regulations and censorship for children under 16, including removing autoplay video, putting a limit to scrolling as well as the number of notifications they can receive on social media. "We're developing technology rapidly and we need to work together to get ahead when it comes to analyzing how it impacts our everyday lives and creating appropriate regulation," Yang said. 
Fighting Disinformation
Across the world, legislators are seeing the massive impact that social media has in predicting voter turnout. With the last presidential election, social media platforms such as Facebook and Twitter have been under scrutiny for their failure to address disinformation during the election period. 
To make social media companies accountable, Yang's new policy sits on implementing digital ads VAT. In his proposal, Yang believes that by taxing digital ads, it would push social media companies such as Facebook to opt for a subscription-based model. This would make the company less reliant on digital advertising, especially on accepting false political ads. 
Plus, the policy also places greater restrictions on how social media companies collect data and target content. By creating a "Department of the Attention Economy", social media companies are required to share or open-source all political advertisements and that all ads should be labeled as such. 
Ensuring User Privacy
Data collection is one of the most lucrative aspects of social media platforms. By providing companies with data, tech giants are able to monetize their user information. To provide regulation, Yang believes that users should have rights on how their data is being collected, a well as having the choice to opt-in, and to have a small incentive for doing so. As Yang puts it  " Digital Bill of Rights, ensuring ownership of data, control over how it is used and compensation for its use."
By providing a slice of every digital ad as to its users Yang says "You can waive these rights and opt in to sharing your data if you wish for the companies' benefit and your own convenience," Yang said. "But then you should receive a share of the economic value generated from your data."
Providing Government Support
Instead of breaking up big companies such as Google, Yang supports a more modern antitrust policy saying "breaking up Google into five mini-Googles wouldn't change much, as people don't want to use the fourth-best search engine." 
He believes that anti-trust is possible only in the most extreme cases, but what big tech companies need is stronger regulations and guidance. In addition, Yang believes in reviving the Office of Technology Assessment, which should provide the government an unbiased view on issues that affects tech, instead of being forced to seek out the advice of industry leaders. 
In this way, Yang believes that it can provide a more informed perspective for legislators. Experts also believe that Yang's new modern policy on tech can have strong implications on the industry, and forces them to address issues that have never been discussed. 
The Era of Smartphones – How The Last Decade Has Shaped Us
Perhaps nothing can define the 2010's more than the rise of smartphone technology. This might even mark the most significant progress in human history. Redefining our relationship with technology has become more personal, especially as we rely on these devices as more than just tools to complete our daily tasks.
While the future can be hard to predict, let's look at how technology has shaped this decade and figure out what's next to come.
The Age Of Start-Ups
Gone are the days of spice trades and lengthy voyage rides to manufacture and sell goods.
The internet has brought a global market, where people can purchase, pay and connect from all across the globe. This technology had also encouraged a new business model, start-ups. While the likes of Steve Jobs and Jeff Benzos had developed their businesses in basements and cramped offices, the new global market has connected people at an international level. It has even allowed entrepreneurs with very limited resources to receive the funding they needed from people all across the globe, something that would have been almost impossible in past decades. The answer? Thanks to the emerging tools and apps like Skype, Slack, Salesforce, and HubSpot, people can hold conference calls and even run data analyses for free.

What's even impressive is this decade has encouraged collaboration, where your tech support can be based in India, designers in Singapore, to head offices in Silicon Valley and clients reaching well- all across the globe.
So even when you're lounging on the beaches of Bali, or even sitting at the comfort of your own home, you can still pretty much carry your work anywhere- offering a new definition to workplace flexibility.
A Growing Focus on Customer Experience
With a more competitive global market, companies are spending many resources ensuring that their customers will have the top-notch experience. In fact, new industries have come out of it… even job positions like Chief Experience Officer (CXO).
With the massive amount of customer information that these companies receive (and purchase), data analytics have also been important. Rather than storing massive amounts of information, companies are using it to track and analyze business strategies, even creating customized and targeted ads.

What's In Store For The Next Decade?
Innovators and tech companies are betting their research and design in these key areas as the next disruptive tech:
Virtual Reality and Augmented Reality
With Microsoft's HoloLens 2, the device presents a new wave and concept for VR and AR tech, which goes beyond entertainment and might, in fact, revolutionize industries. This would save time and money for companies speed up the training process, and eventually change the way we view the workforce.

AI Technology
From self-driving cars to voice tech, AI technology has changed the way we work and live. It had made menial tasks faster and more efficient. However, experts believe that this is just the beginning, and that the future will definitely bring in smarter and faster computers.

Global Economy
With everything, just a tap away, hotel accommodations, transport, and shopping is now possible on a global scale- and this shared economy will continue to grow (hopefully with more sustainable solutions).

5G Technology
As we become more reliant on our mobile phones, the rise of 5g technology will give small low powered devices more capacity, even building mobile-friendly cities to accommodate the number of smartphone users.
With leaps and bounds of technological innovations, this will be a decade that will surely be remembered, but we also can't wait to see what the next one will bring.
Plain and simple, tablet computers are great. If you're mobile-friendly but have never actually purchased a tablet, it's an excellent time to begin looking into one – especially with Black Friday is coming up! The technology is cutting-edge, the functionality is excellent, and costs are beginning to drop considerably.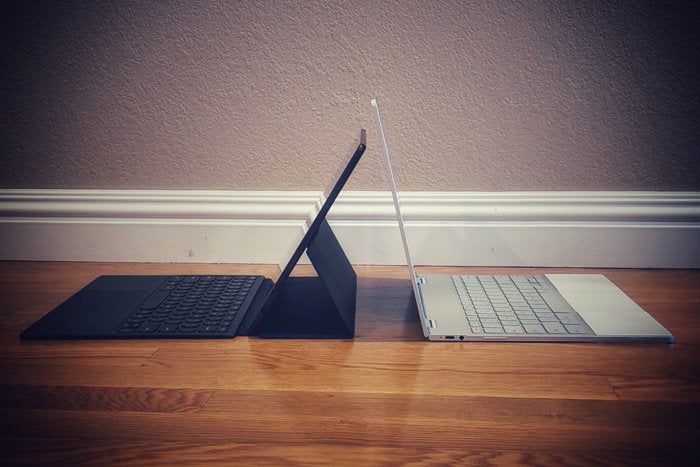 There are two major types of tablet PCs: convertible and slate. Convertible tablets look a great deal like normal laptop computers aside from the fact that the display can be pivoted completely around on its hinge. Interaction entirely takes place on the touchscreen display using a finger or pen stylus. Slate tablets, on the other hand, are extremely flat and thin laptops that are missing their keyboard and trackpad – think of them as laptop screen computers. They are completely integrable with peripherals like key-boards as well as mouses. Both are sensible options but rely on your individual preferences and use cases.

Similar to any kind of technology, tablet computers have advantages and also drawbacks. Thanks to the last few years of development and enhancement, the drawbacks are diminishing in number or almost disappearing completely.

Advantages Of Tablet Computers

Far and away, the very best feature of tablet computers is their mobility. You can take, as well as utilize them, anywhere you go – the same way you would take a notebook and pen.
Tablet computers also let you utilize digital ink to save transcribed notes, charts, and annotations. You do not have to stress over taking your laptop and note pad to conferences any longer. Making use of the stylus pen, tablet computers record your handwriting as well as drawings.

Lastly, one of the best benefits of switching to a tablet PC, when compared to a normal laptop, is that you do not lose any kind of functionality. Tablet computers operate incredibly similarly and run most of the very same programs. Actually, several programs incorporate every one of their normal functions with digital pen-type features, so you can include notes to files as well as even email

Negative Aspects Of Tablet PCs
First is the price. The prices for tablet PCs are coming down a fair bit from when they were first launched, but on average, you can expect to spend more for a tablet PC than for its equal laptop. Depending on the bells and also whistles you're trying to find, expect to pay anywhere from $600 and up.

Another issue is that the handwriting-to-text conversion does not consistently function the way you would expect. Just like speech-to-text systems need a qualified style of speech to work correctly, tablet PCs recognize only qualified penmanship. A lot of the kinks in these conversion systems have been erased – but do not intend on handwriting your following notes and be able to share them without any issues.

Lastly, their smaller sized size is both a benefit as well as a downside. While much more mobile than their laptop equivalents, buttons on the screen may be smaller. Likewise, if you're feeling cramped on the keyboard (because it shrinks to the width of the screen), you're going to have the purchase full-size keyboard and related tablet accessories.